Description of Wheeled Bulldozer (Wheel Dozer):
The wheeled bulldozer, which is also called wheel dozer, is a kind of commonly used construction machinery. The principle of the machine work is to push outfitted dozer blades by essentially tractors, so as to clearing and grading land or paving the roads. These machines use a drive system of military industry technology, which is of big tractive force, high efficiency and good performance. It is with full hydraulic articulated steering and all wheel drive, which is easy and flexible to operate.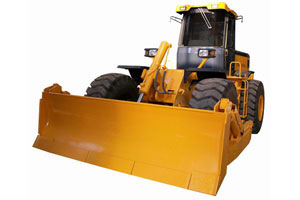 Wheeled Bulldozer (Wheel Dozer)
Type:
LGGQ320A
Specification of Wheeled Bulldozer (Wheel Dozer):
Engine
Model
WD615.44
Type
Vertical, four-stroke turbocharged
Rated power
235kW
Rated speed
2200rpm
Main Technical Specifications
Operation weight
14800kg
Grade ability
47%
Overall dimensions(L×W×H)
7194×3390×3380mm
Wheel base
3470mm
Tread
2240mm
Max. tractive force
118KN
Implement Hydraulic System
Pump type
High pressure gear pump
Hydraulic pressure
16Mpa
Integral multi-valve
DF32.2F3A
Working Equipment
Blade type
Straight
Width
3390mm
Height
1000mm
Max digging depth
400mm
Max. lift above ground
1000mm
Transmission System
Torque ratio
3.7
Gear box
Counter-shaft transmission
Bevel gear
One-stage spiral bevel gear deceleration
Wheel reducer
One-stage spur gear deceleration
Gear shifts(Forward/Reverse)
F4/R4
Traveling speed (km/h)
Forward/ReverseⅠ
8/8
Forward/ReverseⅡ
16/16
Forward/ReverseⅢ
26/26
Forward/ReverseⅣ
48/48
Driving And Tyre
Driving type
4 wheel drived
Tyre size
23.5-25-16PR
Tyre pressure
0.3~0.32MPa
Braking System
Type of traveling braking
Air-pushing-oil disc brake on four wheels
Type of parking braking
Internal expanding with double horseshoe
Steering System
Type
Co-axis flow amp, articulated steering
Bore of cylinder/stroke
2-φ100mm×360mm
Working system pressure
15MPa
Steering angle
35°~36°
Electrical System
System voltage
24V
Battery
6-QW-120 (2pcs)
Lamp voltage
24V
Starting voltage of diesel
24V
Shanghai Longji Construction Machinery Company is a professional manufacturer and supplier of wheeled bulldozer (wheel dozer) in China. We supply all kind of construction and engineering equipments like wheel loader, road rollers, wheeled bulldozer (wheel dozer), crawler excavator, semi-trailer truck, water truck (water carts), dump truck, concrete mixer plants, truck cranes, crawler crane, pavers and other products. As a one-stop service supplier, Shanghai Longji is committed to offering high quality, reliable products and service on time, on delivery and on budget, so that to keep your project running smoothly and on schedule. As the matter those advantages, our products are widely exported to Russia, Brazil, Congo, Ghana, Nigeria, Gambia, Kenya, and Tanzania and gain high reputation among our customers. We offer OEM service upon request. If you need wheeled bulldozer (wheel dozer), PLS don't hesitate to contacts us.
XCMG Related products
Small Wheel Loader
The compact wheel loader is small size engineering machinery. Special designed for loading, unloading, bulldozing, excavating, lifting and drawing material like slack things in mines, asphalt, demolition debris, dirt, gravel, logs, raw minerals, rock, sand, wood chips in engineering construction site. The machine can work more flexible and agile even in narrow area for its small in size. The full hydraulic load sensing steering system and ...