Description of Trailer Mounted Concrete Pump
The trailer mounted concrete pump is a kind of construction machinery used to transport concrete. It is widely used in construction conditions like urban construction, bridge, power, and energy sources etc. It is greatly modernized combining latest technologies both at home and abroad. It adopts steamline production assembly, S-valve serial high-pressure pumps, Z-gate-valve serial medium-pressure pumps and D-butterfly-valve serial low-pressure pumps. At the same time, we strictly controls all the machining processes and assembly quality as well as a final test to every pump trailer in a way by simulation working conditions and overload experiments to ensure great operation and no fault.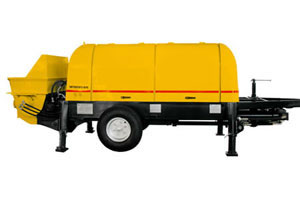 Trailer Mounted Concrete Pump
The trailer mounted concrete pump is equiped with world advanced techniques like open hydraulic loop, distribution valve auto-compensating clearance, constant power control, total hydraulic automatic change, and electric proportional control, etc. It is carried out deep and meticulous studies and experiments in many aspects like concrete piston self-lubricating, etc., and has won many patents.
We can offer pump trailer of three series and more than twenty product types, and the professional producing base as well as most complete models and specifications in CHINA, ensure us to fully meet various needs of all customers.
Main Feature of Trailer Mounted Concrete Pump:
1. Imported famous brand valves allows long lifetime of hydraulic system
2. Full hydraulic reverse, small reverse impact, little oil piping links, small bulk.
3. Germany REXROTH or Germany in-Line producing oil pump.
4. Main electrical appliances from abroad guarantee electrical control system.
5. Constant power large variable displacement of oil pump.
6. Reverse pumping function to clear pipe block.
7. Stirring device and unique blade forbid slurry leakage.
8. S tube valve system achieves good sealing property.
Type: HBT80S1813-161R Trailer Mounted Concrete Pump:
1. This machine has the following major technical features. You may further apprehend these features through learning about the structure, function and operating principle of this machine and operation of it.
2. Operation of concrete pump is controlled by imported famous brand valves, which allows high reliability and long lifetime of hydraulic system. It has the features of full hydraulic reverse, small reverse impact, little oil piping links, high valve set quality, small bulk and easy repair. The main oil pump is of Germany REXROTH or Germany in-Line product with excellent and reliable performance.
3. All the main electrical appliances are of imported products. With excelsior assembly quality, they adequately guarantee high reliability of electrical control system.
4. Distribution valve adopts advanced S tube valve system to achieve good sealing property, simple and reliable structure and easy replacement of wearing parts.
5. Main oil pump with constant power and large variable displacement can fully exert main power efficiency under constant power state.
6. Reverse pumping function can be used to clear pipe block.
7. Design of stirring device successfully solves slurry leakage of domestic like pumps, achieving better advantage and reliability. The unique blade design and small dead angle of mixing make it suitable for many concrete formulas.
8. Great maintainability, which is fully taken into account during design.
Specification of Trailer Mounted Concrete Pump:
Engine
Model
Deutz BF6M1013C161
Rated power
161KW
Concrete Delivery System
Theoretical concrete delivery pressure
High pressure with small displacement
12.5MPa
Low pressure with large displacement
5.28MPa
Theoretical concrete delivery volume
High pressure with small displacement
57m3/h
Low pressure with large displacement
81m3/h
Theoretical maximum delivery distance
150mm tube
Horizontal 1200m, or vertical 250m
125mm tube
Horizontal 1000m, or vertical 230m
Main Technical Specification
Type
Horizontal single-action double row hydraulic piston type
Concrete distribution valve
S tube valve
Max. aggregate size
150mm tube
50mm
125mm tube
40mm
Delivery cylinder diameter× max. stroke
Φ200×1800mm
Hopper capacity
0.6/1320m3/mm
Main oil pump
A11VL0-190 390L/min
Wheel base
1840mm
Diesel oil (depending on seasons)
<0.5%
Engine oil
Grade ApⅠ CD
External dimensions: L×W×H
5900×2085×2490mm
Max. towing speed
Secondary road≤15Km/h
Tertiary road≤8Km/h
Operating weight
7300kg
Service Capacities
Fuel tank
144L
Hydraulic oil tank
560L
Shanghai Longji Construction Machinery Company is a professional manufacturer and supplier of trailer mounted concrete pump in China. We supply all kind of construction and engineering equipments like wheel loader, road rollers, crawler excavator, semi-trailer truck, water truck (water carts), dump truck, concrete mixer plants, truck cranes, crawler crane, pavers and other products. We assemble our quality components according to the ISO quality management system, and all our products are all manufactured in strict accordance with ISO14001 environmental management standard. As the matter those advantages, our products are widely exported to Russia, Brazil, Congo, Ghana, Nigeria, Gambia, Kenya, and Tanzania and gain high reputation among our customers. We offer OEM service upon request. If you need trailer mounted concrete pump, PLS don't hesitate to contacts us.
XCMG Related products
Concrete Placing Boom
The concrete placing boom is kind of engineering machinery with fully hydraulic driven and can be slewed 360 ° in construction conditions. We adopt well-known brand balance valve and solenoid directional valve, as well as great climbing frames that can climb through floors and shafts with limited space. Omron or Schneide electric components can ensure you a high quality concrete placing boom. ...