Description of Concrete Placing Boom:
The concrete placing boom is kind of engineering machinery with fully hydraulic driven and can be slewed 360 ° in construction conditions. We adopt well-known brand balance valve and solenoid directional valve, as well as great climbing frames that can climb through floors and shafts with limited space. Omron or Schneide electric components can ensure you a high quality concrete placing boom.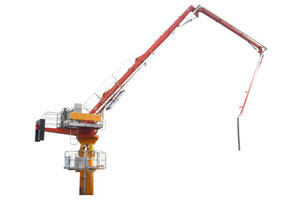 Concrete Placing Boom
Specification of HG32 Concrete Placing Boom:
Model
HG32
Delivery pipe dimension (outside diameter × thickness) (mm × mm)
Φ134×4
Delivery hose dimension (inside diameter × length) (″×mm)
5″×3000
Radius of placing boom (m)
31.7
Stationary height (to the joint between the end of the boom and Swivel table) (m)
22.9
Three hydraulic foldable arms
1st section
14.5m
2nd section
9.2m
3rd section
8.0m
Boom articulation
1st section
-4.2°~+82.5°
2nd section
0°~180°
3rd section
0°~180°
Slewing range (°)
360
Power of motor (kW)
15
Pressure of hydraulic system (MPa)
28
Type of hydraulic oil
ESSO NUTO H46
Interval of climbing frame (m)
Climbing
3.0~4.2
Placing concrete
6.0~8.4
Resting
Mode of operation
1. cable remote control
2. radio remote control
Power
380V/50Hz
Wind speed
Placing concrete
≤60 km/h
Climbing
≤28 km/h
Working temperature
0~48℃
Shanghai Longji Construction Machinery Company is a professional manufacturer and supplier of concrete placing boom in China. We supply all kind of construction and engineering equipments like wheel loader, road rollers, crawler excavator, semi-trailer truck, water truck (water carts), dump truck, concrete mixer plants, truck cranes, crawler crane, pavers and other products. We assemble our quality components according to the ISO quality management system, and all our products are all manufactured in strict accordance with ISO14001 environmental management standard. As the matter those advantages, our products are widely exported to Russia, Brazil, Congo, Ghana, Nigeria, Gambia, Kenya, and Tanzania and gain high reputation among our customers. We offer OEM service upon request. If you need concrete placing boom, PLS don't hesitate to contacts us.
XCMG Related products
Concrete Truck Mixer
This concrete mixing truck is a type of engineering vehicle which is mainly used to transport and mix concrete from a factory to the construction yard. The pressured-air water supplying system is the competitive factor for you to choose to buy it in our company. Our concrete mixing truck adopts international brand air pressuring system units, coupled with the reliable and safe water tank and super volume, this system has the features of high pressure, ...